By Durant Imboden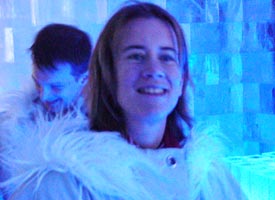 ABOVE: Claudia Quas of the Stockholm Visitors Board looks toasty and tantalizing in an Ice Bar cape.
The Ice Bar experience
When you arrive at the Absolut Ice Bar, you pay a cover charge, stick out your arms, and stand still while an Ice Bar employee fits you with a silvery cape-parka. Next, you step into an air lock, close the door, and open another door that leads into the Ice Bar's frozen inner sanctum. (To prevent body heat from damaging the pristine surface of the ice blocks, the bar has a maximum capacity of 30 visitors.)
The Ice Bar is refrigerated to -5° C (23° F), so you'll probably want to pull up your hood (trimmed in white fluffy fake fur) and slip into your knitted gloves, which dangle from the cape like a preschooler's mittens from a snowsuit. You can now advance to the bar and order from the drinks menu, with choices that include cocktails made with flavored Absolut vodkas and fruit juices plus several non-alcoholic drinks.
There aren't any bar stools (prising visitors' bottoms from ice blocks raises liability issues), but you can rest your elbows on the ice bar or ice tables if you can take the cold. If you're like most visitors, you'll probably split your time between drinking and snapping photos of your companions. After 20 or 30 minutes, you'll be ready to return through the air lock, hand over your parka, and maybe buy a white-on-white souvenir t-shirt on your way to the Nordic Sea Hotel lobby.
Next page: Planning your visit
---
---
---