Highland Park Whisky
Page 4
Continued from page 3
By Durant Imboden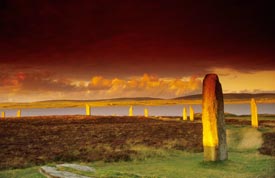 ABOVE: The Ring of Brodgar is one of four UNESCO World Heritage Site listings in "the Heart of Neolithic Orkney."
Orkney Islands
Orkney is an archipelago of 70 islands (17 inhabited) off the coast of Northern Scotland.
The islands are a treasure trove of prehistoric sites--among them, the Ring of Brodgar, several ancient stone villages, and the tomb of Maeshowe ("older than the pyramids and with Viking graffiti you won't find in Egypt," according to VisitOrkney).
Outdoor activities are another draw, ranging from birdwatching to fishing to walks on the islands' hills and rugged coastline (where you're likely to encounter seals, otters, and other non-threatening wildlife).
Nonstop flights serve Orkney from Edinburgh, Glasgow, Aberdeen, and Inverness. For a more atmospheric trip, travel overland to the ferry connections at Aberdeen, Scrabster, Gill's Bay, or John O' Groats. (From Kirkwall, you can continue on to the Shetland Islands, where it's possible to catch a ferry to the Faroes, Iceland, Denmark, or Norway.) For more information, see the "Getting Here" section of VisitOrkney (link on next page).
Distillery tours
The Highland Park Distillery is located just outside Kirkwall, the capital of Orkney. Tours are available year-round, with a gift shop and coffee shop being open during the busier months. For details, see "Visit the Distillery" on Highland Park's Web site (link on next page).
Next page: Web links
---
---
---