Highland Park Whisky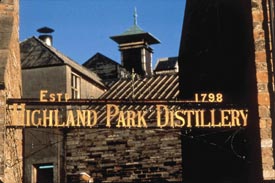 ABOVE: The Highland Park Distillery is open to visitors year-round. INSET BELOW: Gerry Tosh offers whisky tips and tipples during a tasting in New York.
By Durant Imboden

Gerry Tosh is a man with a mission, which isn't to say that he's a latter-day Billy Graham. Mr. Tosh, a Scotsman with a nose for fine single malts, is the Global Brand Ambassador for Highland Park Whisky, which is produced by the northernmost whisky distillery in the world.
Wherever he travels in the 70 countries where Highland Park is sold, the 30-year-old Tosh brings the spirit of the Orkney Islands with him--or perhaps one should say "spirits," as in a selection of 12-, 18-, and 25-year-old whiskies whose character was formed by a land of "windswept moors, craggy outcrops, and ancient religious sites" where "wind, rain, lightening, freezing ice, crushing waves and hail provide the perfect setting for the home of one of the world's best malt whiskies."
I crossed paths with Gerry Tosh in Minneapolis, Minnesota, where he stopped over on his way to a publicity event in Alaska. Having passed up the chance to have Mr. Tosh visit my home office for a tasting by my desk (what would the neighbors have thought?), I was asked to sample a wee dram--or several--at a downtown restaurant. I accepted the invitation; until I could manage a visit to Orkney and the Highland Park distillery, it made sense to let the islands--or at least their spiritous essence--come to me.
Next page: Making the whiskies
---
---
---