Accessible Europe:
Listings by Country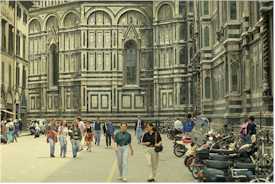 ABOVE: Florence is home to one of two Italian travel agencies that cater to disabled visitors..
Cyprus
Disability Travel
A medical-equipment rental service, an accessible hotel, and a wheelchair-friendly apartment house are listed.
France
Accessible Europe: Accessible Paris
The information here is from Accessible Europe, a tour company that has disability travel information and links for many European countries.
Germany
Münster - KOMM
This site offers information on accessible travel and businesses in Münster. Where necessary, translate with AltaVista.
Greece
Sirens Resort for People with Disabilities
This resort in Skaloma, 1½ hours from Athens, offers five accessible apartments, a beach with a sea ramp, physiotherapy, and more. The owners can arrange transportation, adapted minivan rentals, wheelchair and other equipment hire, and tours or cruises by adapted minibus or accessible yacht.
Italy
Accessible Venice veniceforvisitors.com
My detailed article has photos and a map excerpt that shows wheelchair-accessible portions of the historic center.

Accessible Italy
Massimo Micotti's firm has offices in Rome and Turin, and it has provided travel services to disabled tourists throughout Italy since 1993.

Regency San Marino SRL
Rebekah Serin and her colleagues in Florence offer group tours and individual travel throughout Italy for disabled tourists. Wheelchair, electric scooter, and portable "suitcase ramps" are available for rental.

Rome in a Wheelchair
This page from Travelocity has tips for visitors who need to roll through Rome.
Luxembourg
Accessible Luxembourg
This information page is from the Luxembourg Tourist Office in London.
Netherlands
Accessible Rotterdam
Search by building name and address or category to check the accessibility of hotels, restaurants, shops, museums, etc. You can even specify the type and degree of accessibility that you require. (This is a remarkable site, and it's a model that other cities would do well to follow.)
Spain
La Esperanza Oasis (Calpe)
Rent a vacation villa apartment on the Costa Blanca. Wheelchair rentals and attendants are available, and the swimming pool has a hydraulic lift.
Switzerland
Accessible Switzerland switzerlandforvisitors.com
This article from Switzerland for Visitors includes practical information and Web links for handicapped travelers.

Mobility International Switzerland
Use this site to look up information on accommodations, restaurants, etc. that cater to people with specific disabilities or medical conditions. In German; translate with AltaVista.
United Kingdom
Disabled Holiday Directory
Check listings for hotels and other accommodations in Britain.

Wheelchair Travel
Self-drive vans with lifts, cars with hand controls, London sightseeing tours in accessible buses, and similar services are available here.

Vitalise
This UK-based charity (formerly known as Winged Fellowship Trust) organizes trips to European cities for visually impaired British travelers.