European Car Rental
and Leasing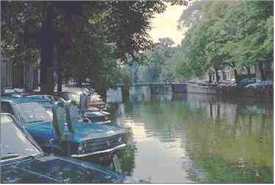 ABOVE: If you pull up too far in one of these Amsterdam parking spaces, you'll be glad you opted for the Collision Damage Waiver.
Most of the leading rent-a-car companies such as Hertz, Avis, and Budget have European agencies. In the listings below, I've focused on partners of Europe for Visitors--that specialize in tourist rentals, short-term leasing, and rail-drive programs.
IMPORTANT: If you rent a car in a country outside the European Union (such as Switzerland) and plan to travel in the EU, note this warning from Peter Anich of the Austrian National Tourist Office:
A new law regarding rental cars outside the European Union has been in effect since August 5, 1999: if you rent a car in a country that does not belong to the European Union, such as Switzerland, you are only permitted to drive it for eight days in any EU country. If you stay longer, you must leave the car at a branch of the rental agency. They will hold it and return it to you when you depart for the non-EU country in which it was rented.

If you inform the rental agency of a non-EU country in advance that you need a car longer than eight days in an EU country, they will try their best to rent you a car that is registered in an EU country which will permit you to drive it indefinitely in any EU country.
Rental vs. Leasing
Car Rentals: When to Rent, When to Lease europeforvisitors.com
Use the comparison chart to decide which works best for you: traditional car rental or short-term leasing (a.k.a. purchase-repurchase).
Rental and Leasing Firms
Auto Europe our partner
The leading independent car-rental broker is based in North America and supplies cars from 4,000 European locations.

Peugeot Open Europe "Buy Back" Program our partner
Peugeot's rates tend to be lower than those of its competitor (see below), and Auto Europe--Peugeot's representative in North America--is known for excellent service and a "lowest rate guarantee." Car models range from econocars to luxury sedans and the Peugeot Partner, which squeezes a lot of interior space into a boxy SUV-like body.
Minimum lease period: 17 days.

Renault Eurodrive our partner
If you don't find what you want at Peugeot, try Renault, which has a long history of short-term car leasing outside the EU. Standard rates may be slightly higher than Peugeot's, and the minimum lease period is longer, but special discounts are available for academics on sabbatical.
Minimum lease period: 21 days.

Rail Europe our partner
Rail 'n Drive Passes combine rail travel with a car rental, so you can share your driving duties with a locomotive engineer.
Insurance
Rental-Car Insurance europeforvisitors.com
Can you rely on your credit card to provide Collision Damage Waiver coverage in Europe? If not, how can you avoid being taken for a ride?
"Best of the Web"
- Forbes and The Washington Post
---
Our most popular topics:
---
---

Need a car in Europe?
Auto Europe guarantees the lowest rental rates for standard cars, sports cars, SUVs, luxury cars, chauffered sedans, and RVs. Its Web site also has driving information for 38 countries.
If you live outside the EU, a tax-free Renault or Peugeot tourist lease can be cheaper than renting. Minimum driver age is 18, there' s no upper age limit, and rates include insurance. See: Short-term car leasing.
---

Traveling by train?
Rail Europe
has schedules, maps, and guides for 50+ European railroads. (Residents of North and Central America can buy tickets and rail passes online.)
---
From Europe for Cruisers:
---
Travel and cruise news: