Living and Working in Europe:
Other Countries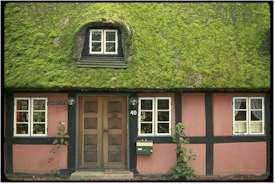 ABOVE: If you're a roofer with gardening experience, maybe there's a job for you in Lejre, Zealand, Denmark.
Czech Republic
Americans in Prague
Click the "Living in Prague" link for advice from the American Women's Group in Prague. The site also has a message boards and useful links for expatriates in the Czech Republic.
France
Americans in France
Jeff Steiner's advice and resources are useful for all prospective expats in France, not just for those from the U.S.

IFP Reference Tools
Internet French Property gives tips on buying a house or apartment and living in France. You'll also find a collection of handy reference items, including a metric conversion tool.
Germany
The German Way: Expats
Hyde Flippo of The German Way provides checklists and other resources for aspiring residents of Germany, Switzerland, and Austria.

Relocation Theresa Hiltl
In addition to offering relocation services for individuals and companies, this Munich firm's site has tips on housing and schools in Germany.
Italy
Hostetler - Opinion
Daniel Hostetler describes the challenges and joys of living with his family in Italy. (Hostetler also produces the Italian Holidays, Festivals and Street Parties site.)

Informer
Italy's leading resource for expatriates began as a magazine in 1986. Today, it's an online publication with a mixture of free and subscription content.

Live in Rome
This site has general information for residents and long-term visitors, including a large classified-ad section.

No Place Like Rome
This site has plenty of useful tips for expatriates and long-term visitors.
Netherlands
Expatica.com
Learn about relocation, customs duties, health and car insurance, housing, expatriate organizations, and other topics of interest to foreign residents of the Netherlands. You'll also find regularly updated material such as a discussion forum, news stories, and classified ads.

International School of Amsterdam
ISA has 800+ pupils of more than 40 nationalities on a modern campus where English is the language of instruction.

Netherlands Newcomers Club Directory
These listings are from the Newcomers Club Worldwide Directory.
Norway
Career in Norway
The booming Norwegian economy needs qualified foreign workers, and this Web site can help you find job postings in six major categories. The site also has information on living and working in Norway.
Portugal
St. Julian's School
Moving to Lisbon? St. Julian's offers English- or Portuguese-style education and an International Baccalaureate program in Carcavelos, 12 miles (20 km) west of the city.
Spain
Spanish Legal Forum
Get tips on Spanish residency requirements from TuSpain.com.