European Rail Timetables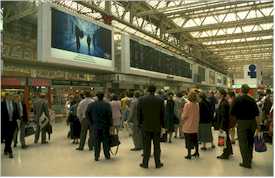 ABOVE: Waterloo Station, London.
Austria
ÖBB
Plan your trip with the Austrian Federal Railways.
Belgium
SNCB/NMBS International Journey Planner
You can look up connections and buy tickets online at B-Rail.be.
Britain
Denmark
DSB Journey Planner
Click "English version" for a journey planner and other information from the Danish State Railways.
Finland
VR
Use the "VR Journey Search" form to plan a trip on Finnish Railways.
France
SNCF Voyages
This journey planner is from sncf.fr, one of the world's most advanced rail networks.
Germany
Deutsche Bahn Timetable
Enter your departure and arrival stations in the e-form, and this site will list train connections between any two cities.
Greece
Hellenic Railways Organization
Click "English" to use the online journey planner.
Hungary
Elvira
Practice your Hungarian as you plan your trip on MAV, Hungary's national railway company.
Ireland
Irish Rail - Your Journey
This interactive timetable is from the Republic of Ireland's national railroad, Iarnród Éireann. Also see the Northern Ireland Journey Planner at Translink.
Italy
Trenitalia
The Ferrovie dello Stato's site has a journey planner and other information in English.
Luxembourg
CFL
Timetables are in French or German at the Société Nationale des Chemins de fer Luxembourgeois Web site.
Netherlands
NS (Netherlands Railroads)
Click "English," then select the domestic or international journey planner.
Norway
NSB
You needn't know Norsk to use this online query form.
Portugal
CP Timetables
Use the global (national) journey planner, or search suburban and long-distance timetables. From Caminhos de Ferro Portugueses at cp.pt.
Spain
RENFE
Plan your journey on the Spanish National Railways.
Sweden
SJ: Resplus
It shouldn't be too hard to figure out this Swedish-language journey planner. For general information in English, see "Travel with SJ" at Swedish Railways.
Switzerland
SBB Travel Online
The Swiss Federal Railways make it easy to plan a journey by train, bus, and/or boat. You also can plan journeys between non-Swiss cities.
National Rail Enquiries
Use this centralized timetable to plan a trip on the British mainland's trains. For Northern Ireland, use the journey planner at Translink.

UK Railways on the Net
This collection of links includes a comprehensive list of UK Railway Companies.
---
Rail Europe our partner
If you live in the U.S., Canada, or the United Kingdom, you can use this site to buy Eurailpass, Europass, regional and national passes, Eurostar, and other rail tickets in your local currency. The site, which is operated by the Swiss and French national railroads, also has links to general agents in other countries.
---