Zeppelin Museum Photos
From: Zeppelin Museum Friedrichshafen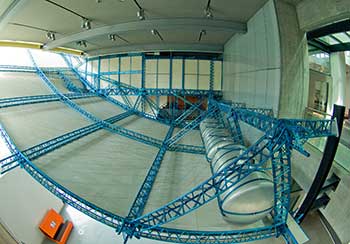 Stairs lead to an observation platform where you can see the Hindenburg replica's aluminum frame, the coated-fabric skin, and the space that contained the bags of hydrogen gas.
The Hindenburg was designed for helium gas, but the United States of America--which controlled the world's supply of helium--refused to sell the gas to Germany, forcing the Zeppelin company to rely on lighter but more flammable hydrogen.
---
---
---
---
"Best of the Web"
- Forbes and The Washington Post
---
Advertisement:
---

Need a hotel in Germany?
Booking.com offers guaranteed lowest available rates at more than 33,000 hotels, guesthouses, and hostels throughout Germany.

Search for hotels, or pick a city