Zeppelin Museum Friedrichshafen
Page 3
Continued from page 2
More photos
By Durant Imboden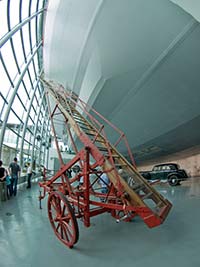 A highlight of the Zeppelin Museum Friedrichshafen is a reconstruction of a 33-meter (108-foot) section of LZ 129, the Hindenburg.
The airship replica is on two floors: On the ground floor, shown here, you can look up at the airship's exterior, which consists of five layers of cotton-linen fabric with five layers of paint. (The top layer of fabric is coated with heat-reflecting aluminum particles.)
---
---
---
---
"Best of the Web"
- Forbes and The Washington Post
---
Advertisement:
---

Need a hotel in Germany?
Booking.com offers guaranteed lowest available rates at more than 33,000 hotels, guesthouses, and hostels throughout Germany.

Search for hotels, or pick a city