VW Phaeton Factory Photos
From: Volkswagen's 'Transparent Factory,' Dresden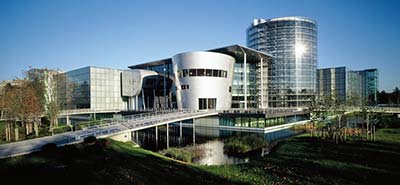 VW's 'Transparent Factory' is located on the edge of downtown Dresden, Germany, next to the city's largest park.
Manufacturing takes place in the box-shaped building behind the inverted stainless-steel cone in the center of the photo. The glass tower on the right is used to store completed Phaetons before delivery.
---
---
---
Photo copyright © Volkswagen AG.
---
"Best of the Web"
- Forbes and The Washington Post
---
Advertisement:
---

Need a hotel in Germany?
Booking.com offers guaranteed lowest available rates at more than 33,000 hotels, guesthouses, and hostels throughout Germany.

Search for hotels, or pick a city