Luther House (Lutherhaus Eisenach)
Page 3
Continued from page 2
More Lutherhaus photos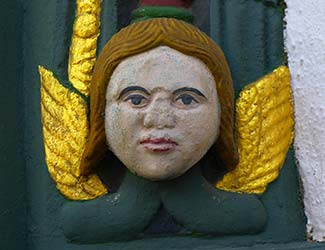 Before going inside the Lutherhaus, take a moment to admire the carvings on the house's façade.
---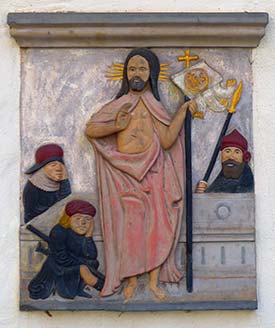 This nativity scene faces the Lutherplatz.
---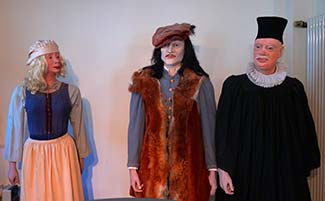 Exhibits inside the Lutherhaus include mannequins in late 16th and early 17th Century costume.
---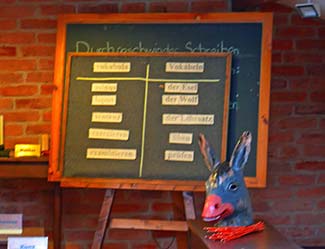 In the Luther-era schoolroom, a papier-mâché donkey's head plays the role of dunce cap.
---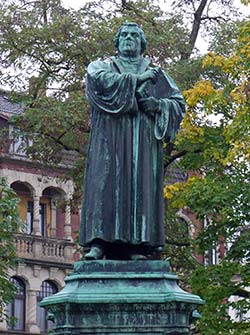 Eisenach's Luther-Denkmal, or Martin Luther Memorial, is a few blocks away from the Lutherhaus on the Karlsplatz. (As an adult, Luther spoke fondly of his teenage years in Eisenach and reportedly described the town as "meine Liebe Stadt" or "my dear city.")
Back to: Lutherhaus Eisenach - Introduction
---
---
---
---
"Best of the Web"
- Forbes and The Washington Post
---

Guaranteed lowest hotel rates:
Europe's No. 1 booking site has great deals at more than 28,000 hotels, guesthouses, and vacation rentals in Germany.

Booking.com: Germany
---

Need a car in Europe?
If you live outside the EU, a tax-free tourist car lease can be cheaper than renting for visits of 21+ days. Minimum driver age is 18, there' s no upper age limit, and rates include insurance. To compare vehicles and rates, see:

Renault

Peugeot
For car rentals under 21 days:

Auto Europe
---
Traveling by train?
Get free schedules, maps, and guides for 50+ European railroads. (Residents of North and Central America can buy tickets and rail passes online.)

Rail Europe