Luther House (Lutherhaus Eisenach)
Page 2
Continued from page 1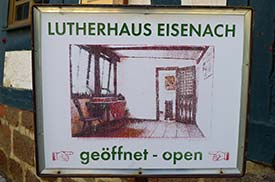 ABOVE: The Lutherhaus Eisenach is easy to find: Just look for the sign on Lutherplatz.
Visitor information
Hours. The Lutherhaus Eisenach is open every day of the year from 10 a.m. to 5 p.m.
Tickets. The modest admission fees vary, depending on whether you're traveling alone, in a group, or with children. (Kids under 6 are free.) You can check current prices on the "Contact" page of the English-language LutherHaus Eisenach Web site.
Reaching the museum. The Lutherhaus is on the Lutherplatz, just south of the Markt and the Georgenkirche in Eisenach's town center. Look for the large white half-timbered house with a "Lutherhaus Eisenach" sign outside the entrance. (See map.)
Café and shop. The Bibel-Café (Bible Café) on the ground floor of the Lutherhaus serves coffee, cakes, books, and souvenirs.
Next page: More Lutherhaus photos
---
---
---
---