Wartburg Castle Photos
From: Wartburg Castle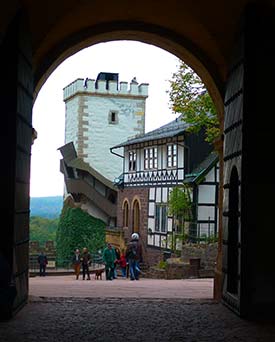 An entrance bridge and tunnel lead into the castle courtyard. (You can enter the castle grounds without buying a ticket.)
According to our Wartburg tour guide, the fortifications weren't meant to serve any defensive purpose: Wartburg Castle was built as a symbol of the founding Ludovinger family's power, wealth, and social status.
---
---
---
---
---
---
"Best of the Web"
- Forbes and The Washington Post
---
Advertisement:
---

Need a hotel in Germany?
Booking.com offers guaranteed lowest available rates at more than 33,000 hotels, guesthouses, and hostels throughout Germany.

Search for hotels, or pick a city