Wartburg Castle Photos
From: Wartburg Castle
By Durant Imboden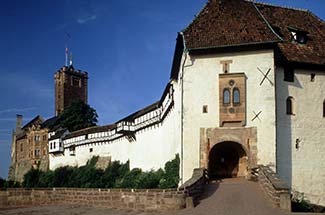 A paved walking path from the parking lot leads uphill to Wartburg Castle's Zugbrücke or entrance bridge.
The path is about 500 meters long, and although it's a little steep in places, it's easy enough to climb or descend as long as the pavement isn't icy.
If you're elderly, infirm, or handicapped, you can take a free shuttle from the parking lot to the castle entrance.
---
---
---
---
---
Photo: Thüringer Tourismus Gmbh / Toma Babovic.
---
"Best of the Web"
- Forbes and The Washington Post
---
Advertisement:
---

Need a hotel in Germany?
Booking.com offers guaranteed lowest available rates at more than 33,000 hotels, guesthouses, and hostels throughout Germany.

Search for hotels, or pick a city