Photos
From: Garmisch-Partenkirchen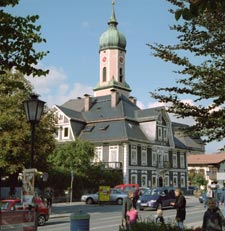 Garmisch-Partenkirchen
Dr. Imhoff's Alte Apotheke (in English, "Old Drugstore") has been in business for more than 180 years. It sells medicines, first-aid supplies, cosmetics, and gift items such as bonbons, fancy soaps, and massage oils.
The shop is located on the Marienplatz in Garmisch. (In the photo, you can see the steeple of the Martinskirche behind the Alte Apotheke.)
---
---
---
"Best of the Web"
- Forbes and The Washington Post
---
Advertisement:
---

Need a hotel in Germany?
Booking.com offers guaranteed lowest available rates at more than 33,000 hotels, guesthouses, and hostels throughout Germany.

Search for hotels, or pick a city