Erfurt Photos
From: Erfurt, Germany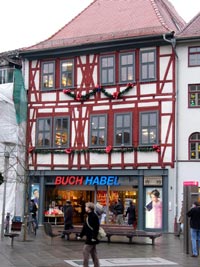 Anger
A modern bookstore, Buch Habel, has been built inside the walls of a sagging half-timbered house at Anger 7.
In addition to a fine selection of books (including a large Erfurt and Thuringia section), Buch Habel has an F.A.Z. Webcafé where you can use an Internet terminal or enjoy coffee and cake at a table. If you're interested in architecture and urban renewal, ask the waitress at the coffee bar for a look at the photo album that shows how the building was renovated.
---
---
---
---
"Best of the Web"
- Forbes and The Washington Post
---
Advertisement:
---

Need a hotel in Germany?
Booking.com offers guaranteed lowest available rates at more than 33,000 hotels, guesthouses, and hostels throughout Germany.

Search for hotels, or pick a city