Erfurt Photos
From: Erfurt, Germany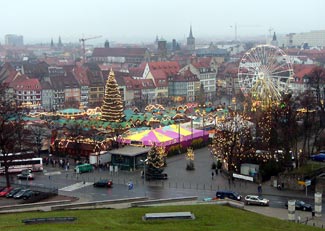 Christmas in Erfurt
This view of the Weihnachtsmarkt or Christmas Market on the Domplatz was taken from the Petersburg hill. The Ferris wheel (right) is one of several rides for children and adults.
Also see the Erfurt Christmas Markets page of our German Christmas Markets article.
---
"Best of the Web"
- Forbes and The Washington Post
---
Advertisement:
---

Need a hotel in Germany?
Booking.com offers guaranteed lowest available rates at more than 33,000 hotels, guesthouses, and hostels throughout Germany.

Search for hotels, or pick a city