Erfurt Photos
From: Erfurt, Germany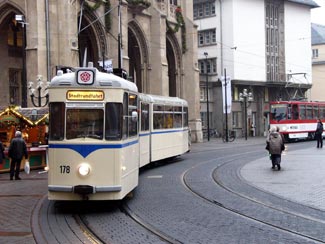 Erfurt transportation
A 1960s tram passes in front of the Rathaus, or city hall, on the Fischmarkt. This vintage streetcar is used for the tourist office's sightseeing tour by tramway, which starts at the Domplatz or cathedral square.
---
---
---
---
"Best of the Web"
- Forbes and The Washington Post
---
Advertisement:
---

Need a hotel in Germany?
Booking.com offers guaranteed lowest available rates at more than 33,000 hotels, guesthouses, and hostels throughout Germany.

Search for hotels, or pick a city