Regensburg Photos
From: Regensburg, Germany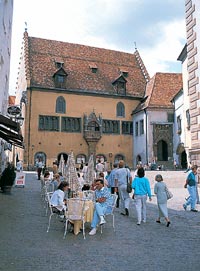 Altstadt
The Altes Rathaus or Old City Hall was built around 1360 A.D. It's included on guided tours offered by Regensburg Tourist-Information, which has its offices in the Altes Rathaus.
---
---
---

Photo copyright © Presse- und Informationstelle der Stadt Regensburg.
---
"Best of the Web"
- Forbes and The Washington Post
---
Advertisement:
---

Need a hotel in Germany?
Booking.com offers guaranteed lowest available rates at more than 33,000 hotels, guesthouses, and hostels throughout Germany.

Search for hotels, or pick a city