Regensburg Photos
From: Regensburg, Germany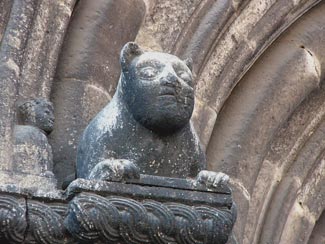 Schottenkirche St. Jakob
A catlike stone carving looks out from the Schottentor, or Scottish Portal, of the Scottish Church of St. Jacob. The Romanesque church was built in the late 1100s by Scottish and Irish monks who founded monasteries in Bavaria and Austria.
---
---
---
"Best of the Web"
- Forbes and The Washington Post
---
Advertisement:
---

Need a hotel in Germany?
Booking.com offers guaranteed lowest available rates at more than 33,000 hotels, guesthouses, and hostels throughout Germany.

Search for hotels, or pick a city