Regensburg Photos
From: Regensburg, Germany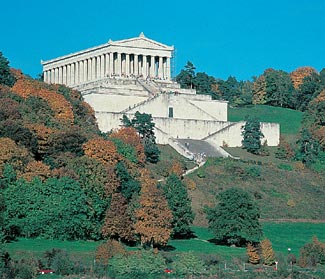 Walhalla
King Ludwig I of Bavaria built Wahalla, a Greek-style temple 10 km from Regensburg, as a "temple of fame" for the German-speaking world. You can reach the monument by car or--better yet--by excursion boat. See our Walhalla article for more information.
---
---
---
"Best of the Web"
- Forbes and The Washington Post
---
Advertisement:
---

Need a hotel in Germany?
Booking.com offers guaranteed lowest available rates at more than 33,000 hotels, guesthouses, and hostels throughout Germany.

Search for hotels, or pick a city