Brocken, Harz Mountains
Page 3
Continued from page 2
More photos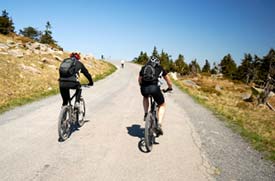 Mountain bikers pump their way up the Brockenstrasse, which is closed to private cars.
---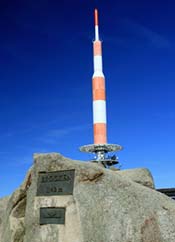 At the Brocken's summit, a plaque shows the elevation (1142 meters or 3,747 feet).
---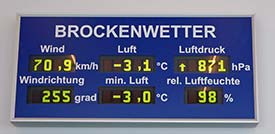 The Brockenmuseum's weather display shows current winds, temperature, air pressure, and humidity. (During a snowy visit in early March, when this photo was taken, the wind speed was nearly 71 km/h or about 44 mph.)
---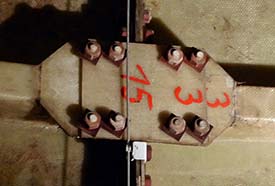 When you're inside the Brockenmuseum's former Stasi radio dome, take a close look at the bolts that hold the dome's panels together.They're made of compressed paper impregnated with tree-sap resin.
---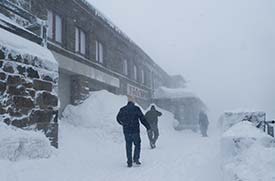 In the cooler months, snow and ice aren't uncommon on the Brocken. Fortunately, the hotel-restaurant is open year-round, and you can retreat inside for a hot Schnitzel, a bowl of Gulaschsuppe, or a Schnapps.
---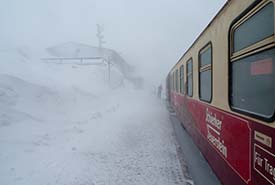 When this photo was taken during an early March blizzard, visibility at the HSB railroad's Brocken station was virtually non-existent, but the train had no trouble retreating to warmer (and greener) elevations.
---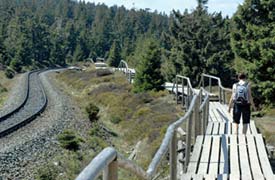 In summer, many visitors take the HSB narrow-gauge railroad from Wernigerode to the Brocken and hike down through Harz National Park.
Back to: Brocken - Mountain and Museum
---
---
---
---
"Best of the Web"
- Forbes and The Washington Post
---
Advertisement:
---

Need a hotel in Germany?
Booking.com offers guaranteed lowest available rates at more than 33,000 hotels, guesthouses, and hostels throughout Germany.

Search for hotels, or pick a city