Heidelberg Castle Photos
From: Heidelberg Castle - Schloss Heidelberg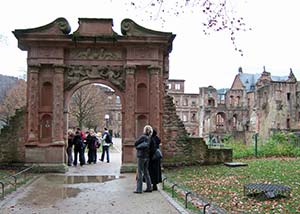 From the funicular station, a path leads to the castle's Artillery Garden, which you enter through the Elisabeth Gate.
You won't need a ticket for the gardens, but to visit the castle proper, stop at the Kasse or ticket office (inset photo) on your way to the gardens. It's just uphill from the funicular station's exit.
---
"Best of the Web"
- Forbes and The Washington Post
---
Advertisement:
---

Need a hotel in Germany?
Booking.com offers guaranteed lowest available rates at more than 33,000 hotels, guesthouses, and hostels throughout Germany.

Search for hotels, or pick a city