Heidelberg Castle Photos
From: Heidelberg Castle - Schloss Heidelberg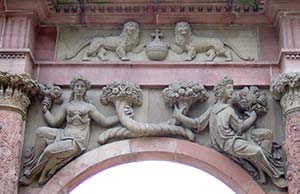 Take a moment to admire the carvings on the Elisabeth Gate, which was built in 1615 as a present from Elector Frederic V to his wife Elisabeth Stuart, the daughter of King James I of England.
According to legend, the triumphal arch was built in sections, erected overnight, and presented to Elisabeth the next morning as a surprise birthday gift.
---
"Best of the Web"
- Forbes and The Washington Post
---
Advertisement:
---

Need a hotel in Germany?
Booking.com offers guaranteed lowest available rates at more than 33,000 hotels, guesthouses, and hostels throughout Germany.

Search for hotels, or pick a city