Heidelberg Photos
From: Heidelberg, Germany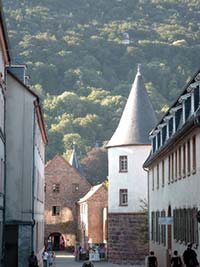 Altstadt
This view looks toward the Neckar River from the Altstadt.
The Philosopher's Walk is visible on the hillside of the Heiligenberg, which you can reach by walking across the Alte Brücke (Heidelberg's old stone bridge, which is now reserved for pedestrians).
---
"Best of the Web"
- Forbes and The Washington Post
---
Advertisement:
---

Need a hotel in Germany?
Booking.com offers guaranteed lowest available rates at more than 33,000 hotels, guesthouses, and hostels throughout Germany.

Search for hotels, or pick a city