Lübeck Photos
From: Lübeck, Germany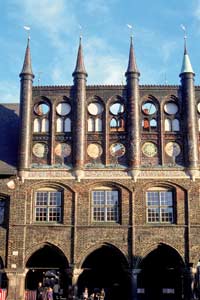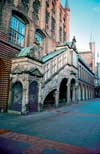 Rathaus
The Lübeck Town Hall is in the center of the Altstadt, facing the Markt (public market) on one side and the Marienkirche on the other. The building is made up of several parts, with the oldest dating to the 13th Century.
The exterior staircase (small photo) is a 1952 copy of the original Renaissance stairs from 1594, which were destroyed by World War II bombing.
---
---
---
---
---
"Best of the Web"
- Forbes and The Washington Post
---
Advertisement:
---

Need a hotel in Germany?
Booking.com offers guaranteed lowest available rates at more than 33,000 hotels, guesthouses, and hostels throughout Germany.

Search for hotels, or pick a city