Lübeck Photos
From: Lübeck, Germany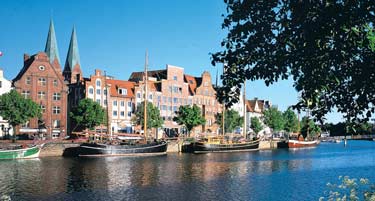 Harbor

To the west of the Holstentor are the Holstenhafen and the Hansahafen, two moat-like harbors carved out of the River Trave. Walk along the water, and you'll see a variety of ships and sailing vessels--including a lightship that once protected shipping in the Fehmarn Belt, a strait between Germany and Denmark.
---
---
---
---
---
"Best of the Web"
- Forbes and The Washington Post
---
Advertisement:
---

Need a hotel in Germany?
Booking.com offers guaranteed lowest available rates at more than 33,000 hotels, guesthouses, and hostels throughout Germany.

Search for hotels, or pick a city