Lübeck Photos
From: Lübeck, Germany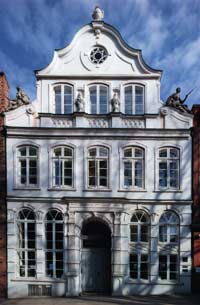 Buddenbrookhaus
Thomas Mann won the Nobel Prize for Literature in 1930 for his first novel, Buddenbrooks. The story, which was published in 1901, drew inspiration from people and places in Lübeck, including the mansion on Breitstrasse where Thomas and his brother Heinrich--also an important German writer--often visited their grandparents during childhood.
The façade of the Mann grandparents' house survived the Palm Sunday bombing of 1942, and a copy of the old structure was built behind it. Since 1993, "Buddenbrookhaus" has been home to the Thomas and Heinrich Mann Center. The museum and research center have a Web site (German only) at www.buddenbrookhaus.de.
---
---
---
---
---
"Best of the Web"
- Forbes and The Washington Post
---
Advertisement:
---

Need a hotel in Germany?
Booking.com offers guaranteed lowest available rates at more than 33,000 hotels, guesthouses, and hostels throughout Germany.

Search for hotels, or pick a city