Lübeck Photos
From: Lübeck, Germany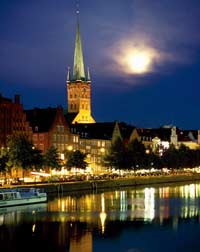 Petrikirche
St. Petri, or St. Peter's, began as a wooden church in 1170, was replaced by a Romanesque stone church in the early 13th Century, and evolved into a largely Gothic church over the next several hundred years.
After the incendiary bombing of 1942, only the Petrikirche's outer walls were left standing. The church was gradually rebuilt over the next 45 years, and it was reconsecrated in 1987. Today, St. Petri houses concerts, exhibitions, and other special events, including a Christmas market in early December.
---
---
---
---
---
"Best of the Web"
- Forbes and The Washington Post
---
Advertisement:
---

Need a hotel in Germany?
Booking.com offers guaranteed lowest available rates at more than 33,000 hotels, guesthouses, and hostels throughout Germany.

Search for hotels, or pick a city