Wittenberg Photos
From: Wittenberg, Germany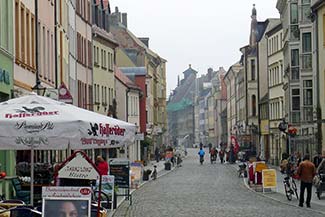 Collegienstrasse
Wittenberg's main shopping district is made up of two connected streets: the Collegienstrasse (shown above) and the Schlossstrasse, which meet at the Markt.
During store hours, the streets are busier than you might expect in a town of 48,000. The shopping district has a C&A department store, several pharmacies, a number of bakeries, confectioners, clothing shops, and nearly half a dozen "Handy" or mobile-phone stores.
---
---
"Best of the Web"
- Forbes and The Washington Post
---
Advertisement:
---

Need a hotel in Germany?
Booking.com offers guaranteed lowest available rates at more than 33,000 hotels, guesthouses, and hostels throughout Germany.

Search for hotels, or pick a city