Wittenberg Photos
From: Wittenberg, Germany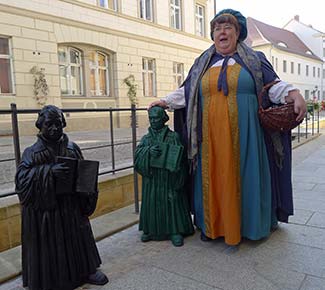 ABOVE: Wittenberg guide Bettina Brett pats a plastic preacher.
Little Luthers
From August 14 to September 12, 2010, 800 plastic "Martin Luther messengers" made their debut on Wittenberg's market square. The statues, which were cast in four colors, were copied from the Luther Monument sculpture by Johann Gottfried Schadow that normally stands on the Markt but had been removed for cleaning and restoration.
German artist Ottmar Hörl, who planned and staged the installation, explained that Schadow's statue "has come to symbolize the 19th Century veneration of the great reformer."
We think the concept was delightful, but a few humorless spoilsports and naysayers have objected to Hörl's playful homage to their church's founder. (See the ENInews article, "Mini Luthers on Wittenberg market square cause offence to some.")
---