Wittenberg Photos
From: Wittenberg, Germany
By Durant Imboden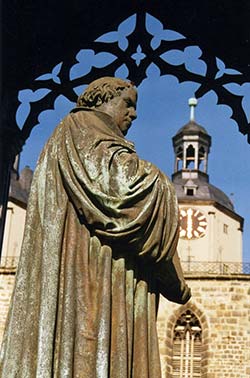 The inevitable Martin Luther Memorial shows the Reformer as he might have looked while contemplating a Sunday sermon. The statue is in a gazebo on the Markt, or market square, where it was erected in 1821.
---
---
---
---
---

Photo: TourismusRegion Wittenberg.
---
"Best of the Web"
- Forbes and The Washington Post
---
Advertisement:
---

Need a hotel in Germany?
Booking.com offers guaranteed lowest available rates at more than 33,000 hotels, guesthouses, and hostels throughout Germany.

Search for hotels, or pick a city