Ballinstadt Emigration Museum
Page 2
Continued from page 1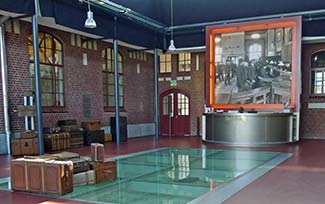 ABOVE: You can buy tickets at the reception desk in Ballinstadt's glass-covered entrance hall.
Visitor information
Ballinstadt is open from 10 a.m. to 6 p.m. daily, with the last entrance one hour before closing. The museum's pleasant and inexpensive restaurant, "Nach Amerika," is open during the same hours.
For up-to-date information, including ticket prices, see the Ballinstadt Web site's "Entrance Fees and Opening Times" page.
How to reach Ballinstadt
Ballinstadt is on Veddel, an island in the Elbe not far from downtown Hamburg. You can easily reach the Veddel S-Bahn stop on line S1 or S31.

Even better, take the Maritime Circle Line boat, which is a "hop on, hop off" boat shuttle that stops at museums and sightseeing points around the harbor. The boat stops right in front of the Ballinstadt entrance.
For driving directions or more transit advice, see the museum Web site's "Finding the Ballinstadt" page.
Web links
Ballinstadt.net
The museum's English-language site is loaded with history, practical information, and more.
Albert Ballin (1857-1918) and Hapag
This illustrated article is from Hyde Flippo's The German Way & More.
Next page: More photos
---
---
---
Custom Search
---