Siena, Italy
Travel and Tourist Information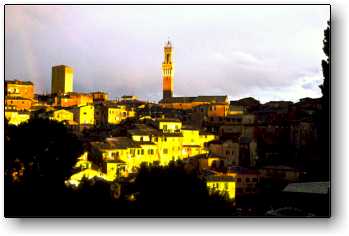 ABOVE: The sun breaks through the clouds to illuminate Siena's skyline and make a rainbow. From our Siena Photo Gallery, which has 113 pictures with captions.
by Durant Imboden
Siena (often mispelled "Sienna") may be the best-preserved medieval city in Italy, thanks to its conquest by Florence nearly 500 years ago. While the Florentines were busy launching the Renaissance, the Senese played the role of country cousins--and as a result, Siena (or at least the walled portion of the city) still looks much as it did in the Middle Ages.
Many tourists regard Siena as being worth a day trip from Florence or a half-day stopover on a tour of rural Tuscany. That's a mistake. You should allow at least two days to visit Siena's major churches and museums, plus another day simply to enjoy the unique atmosphere of this historic but lively university town.
On the following pages, you'll find tourist tips and dozens of links to tourism sites, hotel Web pages, and other online resources for Siena. The captions in our Siena Photo Gallery have more information. A number of Florence and Tuscany guidebooks have chapters on Siena.
Once you arrive in Siena, look for Terre di Siena, an inexpensive 128-page guidebook from the Bonechi publishing house. It's aviailable in Italian, English, and German.
For further background reading, we recommend two books from the 1990s that are no longer in print, but which you may be able to find from a secondhand bookseller:
Siena: New Practical Guide
Bonechi Edizioni published this 124-page paperback, which has 150 color photos. The book focuses on churches, museums, and other sights, with a few pages of hotel and restaurant listings in the back.
Siena: The Gothic Dream
Edizione Alsaba of Siena issued this handsome, oversized guide to the city's history, monuments, and art. The book divides the city into three itineraries and is packed with beautiful photos and reproductions of artwork. An attractive map, suitable for framing, is tucked inside the back cover.
We also suggest buying a good local map, which you should be able to find at the tourist office or a local bookstore. (Look for a scale of 1:5000.)
On page 2 of this article, you'll find advice on reaching Siena from Florence or Rome. Also see"Related articles" below for links to more of our Siena articles.
Next page: Getting to Siena
---
---
---