Siena Cooking Lessons
Page 3
Continued from page 2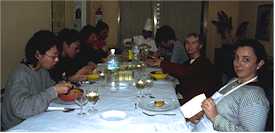 ABOVE: After two hours of hard work, students feast on the meal they've collectively prepared.
A seafood banquet
At my second class, we prepared a seafood meal.
The opening course was pepata di cozze, mussels served in a lemon-accented stock with chili peppers and bruschetta. Next came zuppa di farro con gamberetti, a thick soup combining a vegetable base with grain (farro) and gamberetti (shrimp). Lucie, a student from Montréal, had the unenviable job of debeaking the two octopi used in the insalata di polpo. I was in charge of preparing orata, a fish resembling dorado or mahi-mahi, for the orata al forno con patate e pomodori, in which whole fish stuffed with garlic were baked on layers of potato and tomato slices.
Dessert was pinolata della nonna or "grandmother's cake," a yellow cake with a baked-in layer of pastry cream.
Although our group was larger at the second class, the same spirit of teamwork prevailed. I learned marketable new skills as I played the role of waiter and (later) bus boy over the polite protests of two Japanese classmates who obviously felt the oldest student in the class should be served instead of serving.
For more information on language study, or to learn more about Italy's medieval city of Siena, visit www.dantealighieri.com or use the "Related articles and pictures" links in the navigation table below.
Back to: Siena Cooking Lessons - Page 1
---
---
---
---
---