Getting to Siena
From: Siena, Italy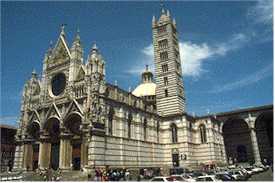 Arriving by bus or train
If you're coming from Florence--as many visitors are--the SITA bus is your best public-transportation option. Trains also connect the two cities, but Siena's railroad station is outside of town, and it's a long uphill walk or an expensive taxi ride to the city center. (Minibuses run several times an hour, but they're often crowded and aren't practical for travelers with luggage.)
Buses leave the SITA bus station in Florence (near the main railroad station) and arrive at Siena's Piazza Antonio Gramsci, which is one short block from the town's main pedestrian thoroughfare.
For bus timetables and information on service to Siena from other areas of Italy, use these links:
SITA
Click "Linea Firenze-Siena" for a timetable in PDF format. (Corsa Rapide express buses connect Siena with Florence in 75 minutes. Corsa Dirette buses stop more often and take longer.) Note: SITA occasionally changes its URLs, so if the Firenze-Siena link doesn't work, go to the SITA home page, click "Linea Regionale," then select the "Toscana" option and look for the Linea Firenze-Siena timetable.
SENA Autolinee
Click "English Version" for bus timetables and fares between Siena and other Italian cities, including Milan and Rome.
TRAIN
Despite the name, TRAIN is Siena's urban and suburban bus service. Its English-language Web pages include links to other bus companies in Tuscany.
Ferrovie dello Stato
The English-language pages of the Italian State Railways have a journey planner that you can use to find connections between Siena and other Italian cities.
Arriving by car
By car, you can take the autostrada from Florence or head west from the Val di Chiana exit of the motorway from Rome. (Hotels often subsidize parking for guests, so ask about free parking or discounts when you book your room.)
The following links may be helpful:
ViaMichelin
Plan your car trip with directions and maps.
Europe Travel Planner: Driving europeforvisitors.com
See our articles and third-party Web resources before hitting Europe's roads.
Driving in Italy
An American makes a case for car rentals and offers suggestions for wary motorists.
Next page: Tourist information sites
---
---
---