Siena Language Study
Danti Alighieri, Siena
From: Siena, Italy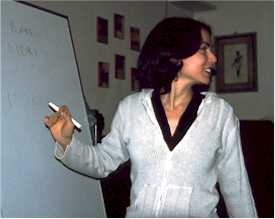 ABOVE: Michela, a teacher at the Dante Alighieri Language School, hosts a vocabulary game at the Dante Alighieri language school.
By Durant Imboden
A few years ago. I enjoyed a "language vacation" at the Dante Alighieri language school in Siena, Italy. It was one of the most delightful travel experiences I've had in years, and I would have extended my stay by months if I'd had the time, money, and freedom. Here's a brief description of what I encountered as a Dante Alighieri student in Siena:
My classmates
My Italian class consisted of nine students: Mats, a technical stagehand at the opera house in Gothenberg, Sweden; Goshi, a cook at an Italian restaurant in Japan; Minna, a Swedish math teacher in training from Uppsala; Masumi, a Japanese seamstress; Marie, another Swede; Lucie, a Canadian from Montréal; Fernanda, a restaurateur from Querétaro, Mexico; Tina, a Dane from Aalborg who had just gone to work as a tourist guide at a wine estate in Montalcino; and one American (me).
Except for my grizzled self, the students ranged in age from 22 to 28. This concentration was a little unusual and probably reflected the fact that not many "language tourists" visit Siena in January. Year-round, the student body's age distribution is surprisingly diverse:
| | |
| --- | --- |
| > 18 | 8% |
| 18-25 | 22% |
| 26-35 | 26% |
| 36-45 | 14% |
| 46-60 | 16% |
| > 60 | 20% |
Students are also of many different nationalities, including Swiss (16%), German (15%), Americans (14%), Australians and Japanese (11% each), British (10%), and others (28%).
Next Page: Teachers and classes
---
---
---
---
---