Siena Language Study
Page 3
Continued from page 2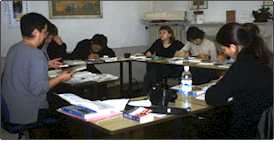 ABOVE: A class at the Dante Alighieri language school in Siena, Italy.
Extra learning opportunities
The Dante Alighieri language school publishes a schedule of extra classes and activities each month, ranging from a weekly orientation tour of Siena to an end-of-the-month dinner party where the "student of the month" wins a generous cash prize. In a typical week, students might be invited to watch a movie in Italian, tour a museum, catch a bus or train to a nearby hill town for an afternoon of sightseeing, visit an olive orchard, dine together in a restaurant, or taste wines in a local cellar. Students of all levels are welcome to attend.
I took advantage of several classes and activities during my stay:
Phonetic and pronunciation exercises. These were conducted by Altero Borghi, a Sienese actor and theatrical director who has a passing resemblance to Robin Williams with an energy level to match. He started by asking each of us to introduce ourselves in Italian. As we spoke, he mimicked our phonetic errors (again, think Robin Williams) and corrected them. He led us in vocal exercises, sweeping away inhibitions with a combination of incisive wit and physical humor that had the class in stitches. His performance--and instruction--was a tour de force (but don't tell him that--he'd probably do a 20-minute shtick while correcting your French pronunciation).
"Musica, Musica." Michela, our lively vocabulary games mistress, led this free session with the help of another instructor. As she played her guitar, we sang Italian folk songs, which forced us to pronounce words quickly while becoming accustomed to the rhythms or "music" of the Italian language.
Museum visit. On Saturday morning, an instructor took a group of beginning, intermediate, and advanced students on a private tour of the museum of the Nobile Contrada dell'Aquila, one of the Siena's contrade or neighborhoods. We saw memorabilia of Palio horse races over the last several hundred years, heard interesting anecdotes about the Palio, and--as a bonus--were taken into one of the ancient sandstone tunnels that lie beneath the city.
Orientation walk. A young woman on the school staff took new students around the city, pointing out landmarks and useful places like the supermarket, underground bus station, a bank, etc.
Next Page: Where I stayed
---
---
---
---
---