Kempinski Hotel Airport Munich
Page 2
Continued from page 1
by Durant Imboden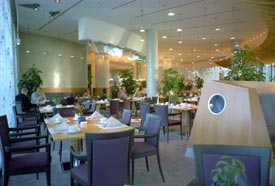 ABOVE: A buffet breakfast is served in the Kempinski's Charles Lindbergh Restaurant.
Bed...
The Kempinski Hotel Airport has 343 rooms and 46 suites. I stayed in a standard double room (3122) in the hotel's west wing on a visit to Munich International Airport, and I was pleased with my accommodation.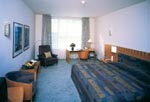 The room was big by German standards, with stylish modern wood furniture and a bathroom with a granite countertop. The large window, which overlooked the hotel garden, was double-glazed to block out noise from jets and other airport traffic. To my surprise, I was able to open the window when I wanted fresh air. (That's when I realized just how excellent the soundproofing was!)
...and breakfast
Breakfast is not included in the Monday-to-Thursday rates, because many of the Kempinski's business travelers start off their day with breakfast in a conference room or on a departing airplane.
Several breakfast options are available:
Room service (Continental-, American-, or Bavarian-style).

An excellent breakfast buffet in the Charles Lindbergh Restaurant (see photo above).

At the Espresso Bar in the lobby, where you can grab a coffee and croissant.
Breakfast prices are quite high on weekdays, but weekend rates often include a free buffet breakfast. Another option, if you aren't on expense account, is to get breakfast at München Airport Center next door.
Lunch and dinner
The Kempinski Hotel Airport has several dining choices:
The Charles Lindbergh Restaurant, which offers breakfast, lunch, and dinner buffets plus an à la carte menu. The daily theme buffets (including a special Sunday buffet) attract local people as well as visitors.

The Lobby Café has coffee and tea drinks, snacks, and light meals and serves free coffee for early birds between 4 and 5 a.m.

The Nightflight Bar, located beneath the atrium's palm trees, serves cocktails, snacks, and light meals from 8 a.m. until 1:30 a.m.
Next page: Rates, reservations, Web link
---
---
---