Munich International Airport
Page 6
Continued from page 5
by Durant Imboden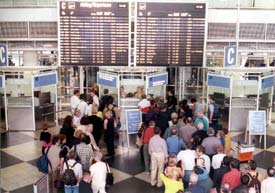 ABOVE: Inside Terminal 1 at Munich International Airport.
Munich International Airport Web links
Airport
Munich Airport
The official Flughafen München Web site has all the basics, including details on the airlines that serve MUC.
München Airport Center europeforvisitors.com
Eat, drink, shop, find travel bargains, get medical treatment, or drink a beer in Europe's largest covered open-air space without leaving Munich's airport.
Kempinski Hotel Airport Munich europeforvisitors.com
The only hotel at Munich Airport is a short walk from the terminals and the München Airport Center shopping mall.
Tourist information
Munich europeforvisitors.com
Read our illustrated Munich Travel Guide, articles, listings of Munich hotels, and more. Also see our Munich Weather and Munich Map.
Photo copyright © Munich International Airport. Used by permission.