Rotterdam Shopping
From: Rotterdam Travel Guide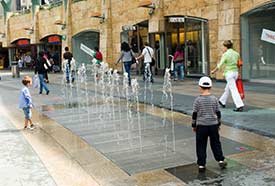 ABOVE: Two boys admire a fountain in the Beurstraverse, a sunken shopping street (nicknamed the "Shopping Gutter") for pedestrians in downtown Rotterdam.
Shopping districts and stores

For mainstream shopping, Rotterdam's city center is the place to go: You'll find Rotterdam's top department store, de Bijenkorf, along with international brands like C&A, H&M, and Sephora, along with specialty stores that deserve special mention:

Selexyz Donner is the largest bookstore in the Netherlands. Its multistory building on Lijbaan, in the downtown pedestrian district, stocks more than 250,000 books--including a large section of English-language titles and a range of local guidebooks and maps. (See our Rotterdam tourist information page for specific recommendations.)

De Zonnewijzer is on Korte Hoogstraat, just east of the Blaak-Coolsingel intersection. It sells wooden toys, nursery accessories, clothes for children and mothers-to-be, craft items, and school supplies.

Meijer & Blessing, a Rotterdam institution since 1813, specializes in Märklin model trains, radio-controlled cars, products for model-builders, and other hobby items.

De Groene Passage is a cooperative of businesses that sell organic, natural, or fair-trade products. The eight stores in the passage range from Gimsel (an organic supermarket) to Vanbinnen (a purveyor of ecologically-correct home furnishings).
Other local shops and galleries of note include:
Marlies Dekkers on Witte de Withstraat (in a trendy district just west of downtown), which sells designer lingerie and is worth a peek for its window displays alone.
Margreeth Olsthoorn, also on the Witte de Withstraat. The stylish, simply-furnished MghO store has women's clothing, while MgHO2 is for men.
Sister Moon, in the Nieuwe Binnenweg, emphasizes trendy clothing and accessories for both sexes, with most new items coming from Spain. (The store also has used clothing.)
Studio Hergrebruik on Coolsingel has been described as "Rotterdam's reycling playground." It specializes in sustainable design, and its gallery displays furniture, clothing, bags, accessories, and lighting fixtures by Dutch designers.
Very Cherry has two stores for female aficionados (aficionadas?) of the 1950s: The original shop at Botersloot 52a sells original '50s-inspired clothing, while the branch at Pannekoekstraat 89a is a vintage and outlet store.
VIVID Gallery organizes six exhibitions of contemporary design each year, along with one exhibition of a single designer from the past.
The VVV (tourist office) publishes a brochure titled Shopping in Rotterdam that describes eight "shopping routes" in the city. Pick up a copy during your visit or see Rotterdam Marketing's Shopping page.
Public markets
Rotterdam has several public markets (see Holland.com's list), but the one that gets the most attention is the twice-weekly market on Binnenrote, which operates from 9 a.m. to 5 p.m. on Tuesdays and Saturdays and has hundreds of stalls that sell everything from fish, cheese, and flowers to books, vintage costume jewelry, and furniture.

The market is easy to find: It starts above the Blaak train and Metro station (just east of the Laurenskerk) and runs for blocks. It isn't just for tourists, either: Many shoppers are from Rotterdam's low-income immigrant neighborhoods, while the rest are a mixture of old ladies with shopping carts, young mothers with strollers, and other local residents.
Provast and the Dutch architecture firm MVRDV have developed an off-the-wall concept for a covered market hall on the west side of Binnenrote, with an innovative tunnel-shaped apartment building forming a residential arch over the food halls. If all goes as planned, the project will be completed by 2014.
Next page: Hotels, hostels
---
---
---
Search for more information on our site:
Custom Search
6th inset photo: Martin De Wit.
7th inset photo: Netherlands Board of Tourism and Congresses.