Choco-Story: Paris Chocolate Museum
Page 3
Continued from page 2
By Durant Imboden
Chocolate Demonstration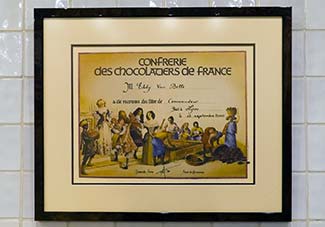 Outside the demonstration room at Choco-Story, a diploma showed that Eddy Van Belle (the museum's founder) was a member of the Confrerie des Chocolatiers de France.
---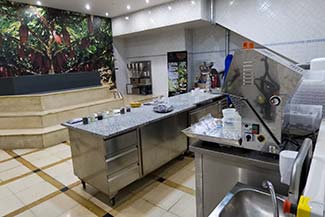 We entered the demonstration room and sat in an amphiteatre-like row of seats (left) facing the modern chocolatier's kitchen.
---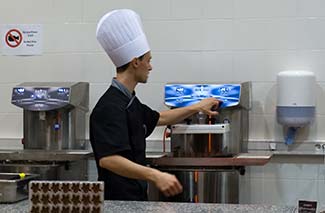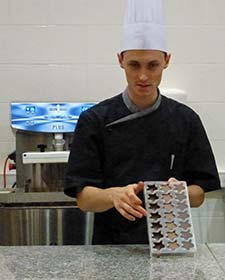 A surprisingly svelte chocolatier demonstrated the use of silicone molds with a machine that melted chocolate.
---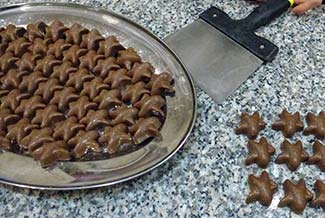 He used the molds to create pralines in the form of Choclala, the museum's cartoon mascot.
---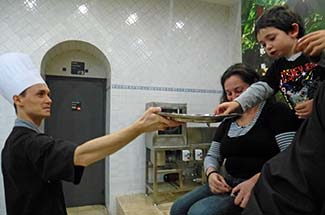 After the short demonstration, samples were passed around for dégustation.

---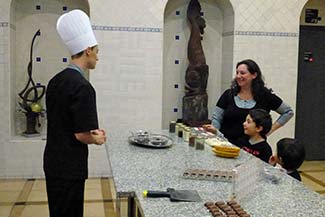 The friendly chocolatier took time to answer questions from visitors.
---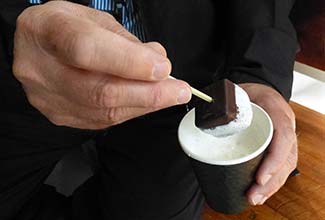 As we left the museum, we couldn't resist buying a cup of hot chocolate in the well-equipped gift shop and bookstore. (We chose dark chocolate, which was given to us as a block on a large toothpick for dipping and dissolving in a cup of hot milk.)
Back to: Choco-Story: Paris Chocolate Museum
---
---