---
Montmartre 2- and 1-star hotels
From: Hotels in Montmartre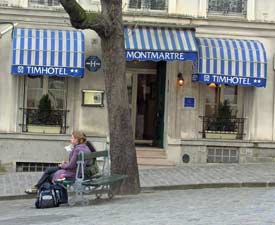 ABOVE: The entrance of the Timhotel Montmartre faces a square on the quartier's steep southern slope.
Two-star hotels

The Timhotel Montmartre is our top choice in this category, if only because of its location: The hotel is directly on the Place Emile Goudeau, a tree-lined cobblestoned square with park benches and a café. The Abbesses Métro stop is nearby, and you can easily walk to every restaurant and tourist attraction in Montmartre. This is a popular hotel for good reason, so don't wait until the last minute to book a room!
Another nicely located hotel is the Comfort Inn Montmartre Place du Tetre (not to be confused with other Comfort Inns in Paris). It's on the rue Tholoze, which is near local shops, restaurants, and Le Moulain de la Gallette, one of Montmartre's two remaining windmills.

The Hotel Sacré-Coeur Paris Montmartre is on the less touristed (but also less quaint) northern side of La Butte Montmartre, in a solidly middle-class neighborhood of attractive shops and apartment buildings. A traditional Parisian café is on the ground floor. From the hotel, you can descend half a flight of steps to the Lamarck-Caulaincourt Métro station.
Hotel du Moulin has 27 rooms (all with free Wi-Fi) and is located a few meters south of the Rue des Abbesses, in the core of Montmartre. The Abbesses Métro stop is only a few minutes from the hotel on foot.
Regyn's Montmartre is directly on the Place des Abbesses, next to a tiny park and one of the two remaining Hector Guimard Métro entrances in Paris. It has 22 rooms, some with views of Sacré-Coeur or the Eiffel Tower.
Next page: Apartments
---
---
---