---
Montmartre Apartments
From: Hotels in Montmartre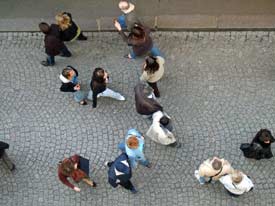 ABOVE: The Rue de Steinkerque from a fifth-floor apartment balcony.
Short-term vacation rentals
If you're staying in Montmartre for a week or longer, a rented apartment may be cheaper than a hotel. As a bonus, you'll have more space, a kitchen, and other perks such as a clothes washer and high-speed Internet access.

We stayed in an apartment on the rue de Steinkerque that we found through Michele Vannoni's Paris Rental Connections, which has several apartments in and near Montmartre. The attractively furnished flat was roomy, light, and comfortable, and it even had a small balcony.
A property that specializes in short stays is the Adagio Paris Montmartre, which has 76 studios and two-room suites in a renovated building near the Théatre d'Atelier. Seasonal rates vary with the number of rooms and guests.
To find more apartment listings, click the Adagio Paris listing above and select "Show map." You can zoom in and see a large number of apartments on Montmartre's southern and northern slopes.
For a stay of a week or two, consider renting through an established vacation-rental agency or booking service like HomeAway. If you're planning to visit for several months or longer, you can try other options such as Lodgis and classified print ads in the free FUSAC magazine.
Caution: Rental agencies and landlords often define "Montmartre" in very broad terms, so know your Montmartre geography and consult a map before booking.
Back to: Hotels in Montmartre
---
---
---