Paris Charles de Gaulle Airport
Taxis and Shuttles
From: Paris CDG Airport Transportation
---
---
Taxis
Expect to spend €40 to €50--or possibly more--for a taxi to the city center, depending on the time of day and the location of your hotel. In addition to the metered fare, you'll be charged a small amount for each piece of luggage. Allow 45 minutes to an hour for the trip, and tip the driver 10 percent of the fare.
Signs in the terminal will guide you to the nearest taxi stand, where you'll need to wait in line for a cab.
For more information on using les taxis parisiens, including links to cab telephone numbers and an online fare calculator, see our Paris Taxis article.
BELOW: An illuminated Paris taxi sign. (Green means "vacant," and amber-red means "occupied.")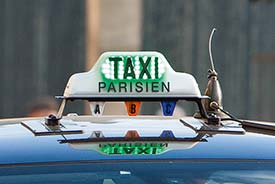 Airport shuttles
Shuttle companies offer door-to-door service between Charles de Gaulle Airport and city addresses. Travel is in shared vans or minibuses, so the trip may take longer than going by taxi, although you'll avoid standing in line.
Parishuttle charges €12,50 to €31 per adult passenger, depending on how many people are traveling together.
Paris Airport Shuttle charges €17 to €30, with a €3 surcharge in the early morning or late evening.
Both companies can supply private vans at a higher cost.
Please note:
Make shuttle reservations at least 24 hours in advance. (Earlier is better at busy times of the year.)

If you prefer to pay in your own currency, you can prebook shuttle transfers through Viator: Paris, which offers pricing in euros, British pounds, and U.S. or Australian dollars. Viator's prices are often--though not always--better than the shuttle company's rates. (Viator is our advertising partner for transfers, day tours, and excursions in Paris and the Ile de France region, and we receive a small referral fee on each booking.)
Back to: Paris CDG Airport Transportation - Page 1
---
---
---