Paris Dinner Cruises
Page 2
Continued from page 1
By Durant Imboden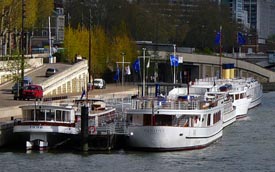 ABOVE: The Yachts de Paris fleet at Port Henri IV.
Croisière Paris
The relatively small and cozy Capitaine Fracasse is a bargain by Paris dinner-cruise standards, with prices that range from €50 for dinner only to €90 with dinner, half a bottle of Champagne, mineral water, and coffee. The children's rate is €40, and for an extra €8 per person, you can have birthday cake with music and candles. Cruises operate once or twice daily, depending on the time of year.
For more information, including timetables, visit the Croisière Paris Web site at www.croisiere-paris.com.
La Marina
This company offers two dinner cruises each day, with prices that include wine.
The first service boards at 6:15 p.m. and departs at 6:45 p.m., arriving back at the quay below the Musée d'Orsay at 8 p.m. The cost is €52 or €58, depending on the main course that you choose, and drinks are extra. Children from ages 4-10 pay €32 (unless they can talk Dad, Mom, or Granny into picking up the tab).
The second service has an 8:45 p.m. boarding time, with departure at 9:15 p.m. and return at 11:5 p.m. Price starts at €65 for adults and €30 for children.
You can also book lunch cruises from on Fridays, Saturdays, and Sundays. The price is €36 for adults (or €42 with a Musée d'Orsay ticket included) and €32 for kids from ages 4-10.
For a cruise itinerary and menus, see La Marina de Paris.
Yachts de Paris
In addition to private business dinners, receptions, and other charters, Yachts de Paris offers a "tasting menu" dinner cruise for €198 (wine and other drinks extra) on Don Juan II, a vintage motor yacht with only 15 tables. For details, visit Yachts de Paris and click the "Individuals" tab.
Back to: Seine Dinner Cruises - Page 1
---
---
---