Paris RER
Page 2
Continued from page 1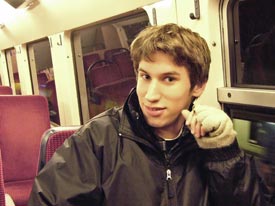 ABOVE: A passenger on the upper deck on an RER Line C train. INSET BELOW: Métro tickets are valid for RER travel within the city.
RER tickets within Paris
Single-trip "T+" Métro and RER tickets are interchangeable within the city of Paris (more specifically, in zones 1 and 2 of the Métro/RER network). You can buy an individual ticket for €1,70 or a carnet of 10 tickets for €12,70 at a vending machine in any Métro or RER station, using coins or a credit card. (But see "Warning" below.)
You can also use tickets from your carnet on public buses or trams. However, you can't transfer between the Métro/RER and buses or trams (or vice versa).
Your ticket is valid for 1˝ hours from the time it's stamped.
For details on the current generation of tickets and carnets, including transfer information, see the RATP's "T+ tickets" page.
Note: Children under 4 travel free on the RER, and children from 4 through 9 years of age get a 50-percent discount. For other rare reductions, see RATP.fr's Reduced Price page.
RER travel to (or from) the suburbs
For travel beyond the city limits, you'll need a point-to-point ticket. The fare depends on how far you're traveling. Check the zone map in the RER station or indicate your destination to the counter clerk when buying your ticket.
Better yet, use the RER's automated vending machines. The newer machines are easy to use; just pick your language and follow the instructions.
Warning: RER ticket machines are designed to work with French credit cards, which have embedded microchips. If you have a credit card with only a magnetic stripe, it probably won't be accepted by the ticket machine. To add insult to injury, RER ticket machines don't accept banknotes, either, so you'll need a supply of euro coins to use them.

Métro ticket machines do accept credit cards with magnetic stripes, so buy your tickets in Métro stations if your card doesn;t have an embedded chip.
Paris-Visite and other RATP travel passes (such as the rechargeable Navigo card) are valid on the RER, though you'll need to pay a supplement if you're traveling beyond the zones indicated on your pass. For more information on travel passes, see our Paris Métro Tickets page.
Riding RER trains
After you've bought your ticket, go to the entrance gates or turnstiles. Insert your ticket into the slot with the magnetic side down. After you've gone through the turnstile, retrieve your ticket (which will be ejected by a slot on top of the divider).
Keep the ticket with you, since you'll need it to exit through the turnstiles at your destination.
Using a Paris-Visite pass is just like using a cardboard ticket: Insert the small plastic "coupon" or ticket that comes with your pass into the turnstile, retrieve it, and keep it with you. (Warning: If you use the pass on a bus, don't punch it in the validation machine; show it to the driver instead.)
Once you're inside the turnstiles, you can proceed to the platforms, where video monitors or electronic signboards have train information.
Important:
If you're going to the end of the line, be sure that you're on the right train, since many of the RER lines are divided into forks or secondary lines outside of the city center.
For example, the northbound RER Line B splits at the Aulnay-Sous-Bas station, with B3 going to Charles de Gaulle Airport at Roissy and B5 heading to Mitry-Claye. To avoid confusion, check the RER map in the station before departure.
Next page: RER links and articles
---
---
---