Paris Sightseeing Boats
Page 9
Continued from page 8
By Durant Imboden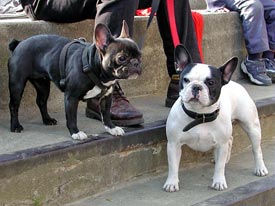 ABOVE: Dogs enjoy a view of the St-Martin Canal in northeastern Paris.
More boat cruises
Capitaine Fracasse
A two-hour dinner cruise aboard the Capitaine Fracasse takes you past the usual sites and sights in central Paris. Prices are considerably lower than on Bateaux-Mouches or Bateaux Parisiens.
Marina de Paris
Lunch cruises (Friday to Sunday only) and two daily dinner cruises leave from a pier below the Musée d'Orsay. Prices are moderate.
Yachts de Paris
If you're willing to spend €198 each for a meal (apéritifs and wine extra), here's your chance to experience the yachting life on a vintage vessel, the Don Juan II.
Back to: Introduction - page 1
---
---
---
---
---
---