Paris photos and Webcams
From: Paris Travel Resources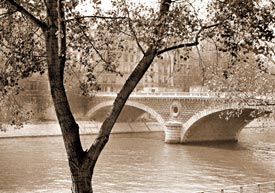 ABOVE: The River Seine, rendered in sepia by Farah Mahbub.
Photos
ParisSkyPictures.com
Click the arrondissement numbers or use the menu windows to view aerial photos of Paris and other locations by professional pilot Jean-Louis Schmidt.
The Channels: Paris Virtual Tour
Click a number of the map for a neighborhood photo album.
FreeFoto.com: France
Ian Britton's FreeFoto.com has dozens of professional-quality photos taken in Paris and other parts of France. The images are free for personal use and for sale to commercial users.
Paris photos
Click the thumbnails to view Matthew E. Martini's full-size pictures with captions.
Paris photos guide
This page of picture-taking tips and photos is sponsored by the GIS Hotel Paris.
Photography by Fenichel: Paris
Michael Fenichel presents half a dozen photos of the city.
Picturing Paris
Rein Nomm's slide show has dozens of Parisian photos in eight categories that range from "cafés" to "bridges."
VisitParis
Don Smith's travelogue includes many photos, with more to come.
Webcams
ABC Paris Live! Webcams
Select one of this site's many Webcam listings to view Paris sights, shops, and other locations online.
---
---
---
Photo: Copyright © Farah Mahbub.