Rail Europe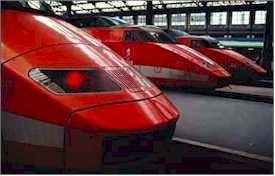 ABOVE: Use your rail pass on high-speed TGV trains.
Rail Europe is a joint venture of the French National Railways and the Swiss Federal Railways. It sells Eurail passes, national rail passes, and tickets for 60 railroads in 35 European countries, and its Web site is the #1 online resource for information on rail travel in Europe.
If you're a resident of the U.S., visit Rail Europe (US)
or use the information and product links below. Outside the U.S., see Rail Europe (Canada)
or Rail Europe (UK).
Tip:

If you're buying point-to-point tickets (as opposed to rail passes), you may be able to find better deals by searching European national railway sites or simply getting your tickets at the station. But for rail passes, or if you aren't willing to compare fares and book tickets in foreign languages, Rail Europe is the top place to shop.
For U.S. residents:
---
---
Note: We receive a tiny referral fee for tickets or railpass sales to U.S. travelers
that originate with clickthroughs to Rail Europe from our site.